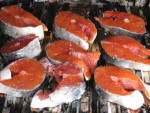 Is it too soon to start looking forward to summer? Good! We didn't think so either. Along with warmer weather and fantastic outdoor adventures and activities, summer in Kelowna is also known for the ease and wonder of preparing food outside.
Have you ever had your BBQ propane tank run out in the middle of an afternoon party? Not fun. Not fun at all! If you'd like to avoid that experience in the future, and you're already running systems in your home on natural gas, maybe it's time to consider making the move to a natural gas-powered barbeque.
You can make the switch to a gas BBQ in two easy steps.
Step 1: Choose a Natural Gas BBQ
The first step is to choose the right grill. Something that fits in the current spot, looks good, is powerful, and has the features and attachments you're looking for in your favourite piece of outdoor equipment.
Some features you may want to consider are a rotisserie attachment and a side burner, especially if it has been a while since you last purchased a barbeque. The feature we like most of all is a lid light, which is essential if you want to keep grilling in the fall.
Step 2: Hired a Qualified Kelowna Gas Fitter
Once you have taken delivery of your brand new gas barbeque, you need a technician to come run the gas line and hook it up to your latest toy. For safety's sake, and to keep your home insurance company happy, this is something that is legally required to be left in the careful hands of a licenced professional.
You can contact Fortis BC to have one of their technicians come and perform this service for you, but then you're bound to the times that they're available. Might we suggest a practical alternative for your consideration? You just may be able to find a Kelowna plumbing company that is also qualified to provide gas fitting services. Because of the nature of plumbing emergencies, there are often staff members on call during non-standard hours.
Summer will be here before you know it, and your reputation as a master griller is on the line! Before we're all booked up, give us a call us at (250) 681-0089 to schedule your barbecue hook-up appointment with a qualified Kelowna gas fitter.